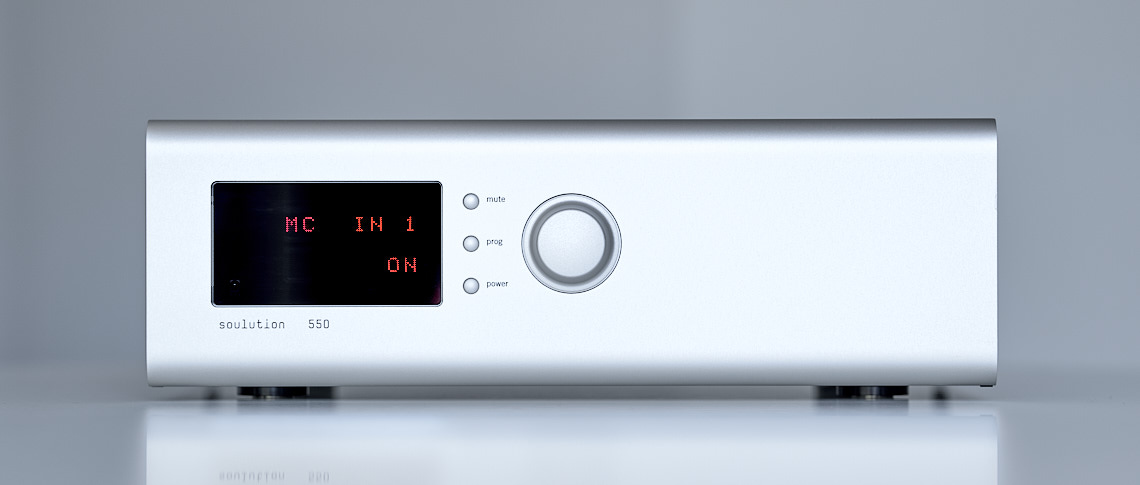 While the world of recorded music formats continues its seemingly inexorable change, with CDs and SACDs giving way to server-based storage, USB and network interfaces, one format – that of the vinyl record – continues to be highly popular. Indeed, vinyl, the medium that 20 years ago was said to be dead, has lost none of its appeal and is today enjoying a revival thanks to an ever-growing fan base.
80 dB gain without distortion
The phono stage with RIAA equalisation required for vinyl playback presents the designer with a formidable technical challenge if it is to correctly and transpar­ently handle the signal from low output moving coil cartridges. Delivering a gain of up to 80 dB (10,000 times) while remaining linear and phase-correct, the amplifier must have an ultra-wide bandwidth, (internal bandwidth 1 MHz/– 3 dB) minimal distortion, optimal channel separation and maximum linearity.
Dual-mono construction
The 550 Phono features unbalanced dual-mono construction with separate power supplies for the left and right channel, guaranteeing the least possible channel crosstalk. Both inputs of the 550 can be configured for moving magnet or moving coil cartridges, with load impedance selectable via the front panel or the remote control for each input individually. A switchable < 20 Hz rumble filter protects loudspeaker cones from potentially damaging long excursions caused by warped records.
Musicality and refinement with no limits
Noise and distortion have no place in vinyl playback, despite the challenges implicit in amplifying such low signal levels. Only then can the full potential of the medium be heard. The richness of sound colours, the dynamism, the refinement. Heard through the 550 Phono, well-produced vinyl shows why for many it is still the medium to beat, unrivalled in its ability to convey emotion and musicality.
Preamplifier grade output stage
If nothing is to be lost at the source of music, then the power supply and the output stage of a phono preamplifier have to be of the highest quality. For the 550 Phono soulution uses identical power supplies and output stages to those employed in the 520 Preamplifier. Optimized for speed and precision the 550 Phono can drive any cable.
Specifications
Mains
220 – 240 V (50 – 60 Hz)
100 – 120 V (50 – 60 Hz)
Power consumption
< 0.5 W standby
100 W device in operation
Inputs
2 × RCA (MC/MM configurable)
Input impedance
MC:
MM:
10 Ω – 1000 Ω
1000 Ω – 47 kΩ and 0 – 200 pF
Outputs
1 × balanced (XLR)
1 × unbalanced (RCA)
Frequency response (– 3 dB)
0 – 1 MHz (RIAA equalisation)
THD + N
< 0.002% (20 Hz – 20 kHz)
Signal-to-noise ratio
100 dB
Channel separation
60 dB @ 1 kHz
Gain max
MC:

MM:
+ 66 dB @ 1 kHz (XLR)
+ 60 dB @ 1 kHz (RCA)
+ 55 dB @ 1 kHz (XLR)
+ 49 dB @ 1 kHz (RCA)
Output impedance
10 Ω balanced (XLR)
10 Ω unbalanced (RCA)
Output current max 
11 VRMS balanced (XLR)
5.5 VRMS unbalanced (RCA)
Output current max
0.2 A (limited)
Dimensions
442 × 143 × 448 mm
(W × H × D)
Weight
approx. 20 kg
LINK (remote turn-on)
12 V control signal