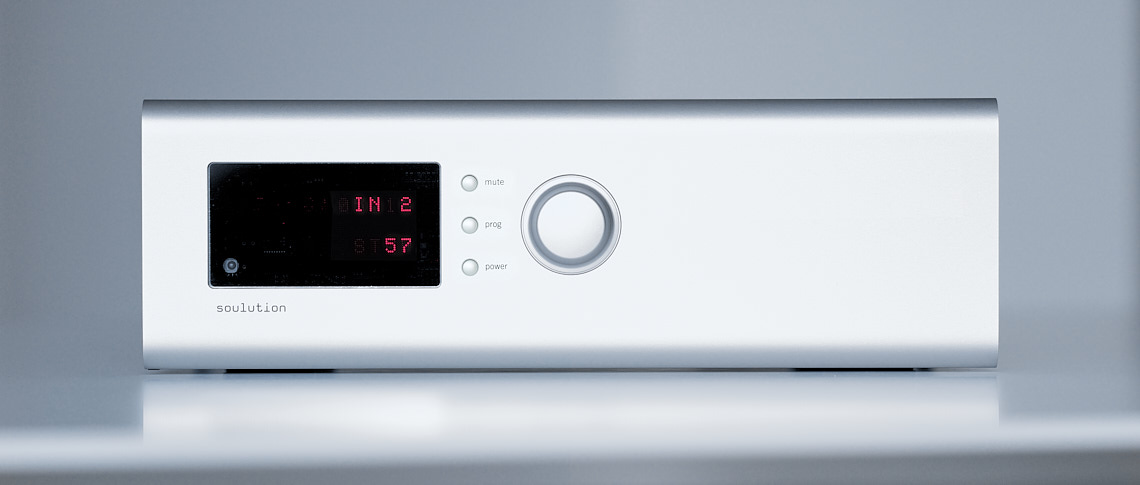 Dynamics. Resolution. Control. Musicality.
All as close to perfection as possible. It's what characterizes a top class preamplifier. The soulution 520 meets these challenges and more.
With four line inputs and a high quality phono stage built in, the soulution 520 is perfectly equipped for all audiophile requirements.
Highlights
Philosophy
A preamplifier should only amplify or attenuate the music signal, not change it in any way, while meeting the highest technical specifications. No distortion, no hum or noise, at the same time achieving the lowest cross talk and widest bandwidth. The soulution 520 preamplifier elegantly meets these demands and is a benign load for any source component.
Design
Unbalanced design ensures the fewest components in the signal path. Physical separation of the left and right channel provides optimal separation and cross talk performance. High quality relays switch between the inputs. Source signals are buffered directly at the input. For safety, an audio grade coupling capacitor protects the preamplifier as well as downstream amplifiers and loudspeakers from potential DC components in source signals.
Volume control
The 520's volume control uses only high-precision, low-noise metal foil resistors, and it controls both the volume and balance. To block switching peaks during volume changes which may be hazardous to power amplifiers, the 520 is equipped with a second volume control with a PGA (Programmable Gain Amplifier). Active only during the volume control process, it is similar to a potentiometer and enables the volume to be adjusted in smooth, click-free steps. As soon as the new desired level value has been selected, the unit returns control to the precision resistors.
Output stage
Multi-stage, similar to that used in the reference 720 preamplifier, it achieves very fast, ultra wideband (1MHz/-3dB) amplification and is able to drive the longest interconnects with ease.
Phono-MC-Preamplifier
Similar to the 720, the phono preamplifier of the 520 is also multi-stage using the highest grade components.
Operation
The 520 is operated via its front-panel buttons and rotary control. Multi-functional, these allow optimisation of the entire audio system, and an ideal set-up of the individual components.
Specifications
Mains
220 – 240 V (50 – 60 Hz)
100 – 120 V (50 – 60 Hz)
Power consumption
< 0.5 W standby
100 W device in operation
Inputs
2 × balanced (XLR)
2 × unbalanced (RCA
Input Impedance
XLR:
RCA:
Phono:
3 kΩ
3 kΩ
adjustable
Outputs
1 × balanced (XLR)
1 × unbalanced (RCA)
Frequency response (– 3 dB)
0 – 500 kHz
THD + N
< 0.001% (20 Hz – 20 kHz)
Signal-to-noise ration
> 120 dB
Channel separation
< 120 dB
Gain max
balanced
unbalanced
– 83 … + 16 dB
– 89 … + 10 dB
Volume control range
+ 15 DB to – 79 dB in 1 dB steps
Output impedance
10 Ω balanced (XLR)
10 Ω unbalanced (RCA)
Output voltage
14 VRMS balanced (XLR)
7 VRMS unbalanced (RCA)
Output current max
0.2 A (limited)
Dimensions
442 × 143 × 448 mm
(W × H × D)
Weight
approx. 18.5 kg
LINK (remote turn-on)
12 V control signal